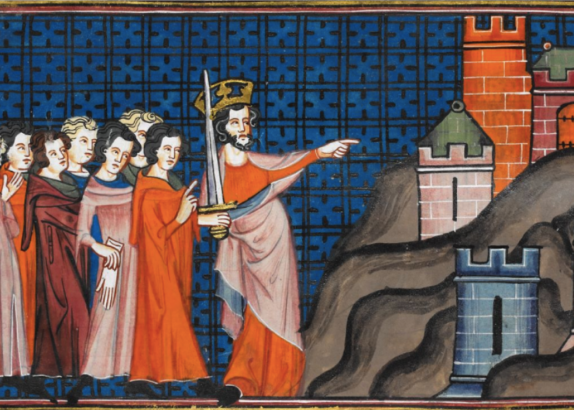 About The Pilgrim's Guide
Introduction
This website is a collection of student research projects for the art history course "Saintly Bodies and Holy Shrines: The Art and Architecture of Medieval Pilgrimage" at the University of Hong Kong (HKU).
---
The project is a joint effort by HKU academic staff, undergraduate students, and Grayscale Limited.
Throughout the Middle Ages, millions of travelers traversed hundreds of kilometers of unfamiliar, foreign lands to venerate the bodies of saints. From England to the tip of the Iberian Peninsula, from Scandinavia to Rome, medieval pilgrims embarked on months-long journeys to seek spiritual favor, perform penance, or simply escape quotidian life. Art served as the mediator of these experiences.
The course
The course examines the four major medieval Christian pilgrimages—Jerusalem, Rome, Compostela, and Canterbury—and the artistic production associated with each. Students study monumental basilicas, reliquaries, and pilgrim's badges while considering the spiritual, physical, and social aspects of the rite. As the course progresses, students also embark on their own research projects in teams, each focusing on a specific site, building, or object related to medieval pilgrimage.
The Pilgrim's Guide
The original Pilgrim's Guide is a twelfth-century guidebook to the pilgrimage routes to Santiago de Compostela and the shrine itself. Considered one of the earliest travel guides, the book describes sites to see and visit, towns along the route, and even foods to avoid.
Our website hopes to provide something similar for the modern digital pilgrim. The footprints of pilgrims had the power to connect peoples, cultures, and arts from disparate places in the medieval world. A millennium later, the pilgrimage routes on our interactive map link medieval pilgrimage art and visual culture to its contemporary, global study through student contributions.
---
The project team
The project is a joint effort by HKU academic staff, undergraduate students, and Grayscale Limited.
Dr. Elizabeth Lastra
Dr. Elizabeth Lastra is an Assistant Professor at the University of Hong Kong, where she teaches courses on the arts of medieval Europe, the Mediterranean, and the Islamic world. Her research focuses on northern Spanish art and society in the eleventh and twelfth centuries, addressing questions of urbanization, pilgrimage, and the dynamics of socially and religiously pluralistic communities. Dr. Lastra also works to apply digital technologies to expand the means by which art objects and monuments are studied. For virtual access to Spanish medieval sites, see her website: RomanesqueSpain.com.
Questions and comments are welcome. Please write to lastra@hku.hk.
Gigi Leung
Gigi Leung currently works as a Research Assistant under the supervision of Dr. Lastra. She received her Bachelor of Arts degree from the University of Hong Kong in 2019, with a double major in Fine Arts and English Studies. An exchange year at the University of Edinburgh first ignited her interest in medieval art, literature, and culture.
Student Contributors
2019-2020
Iqra Abbasi
Jane Chan
Kevin Lam
Lai Shan Lau
Charlie Lee
Emily Yick Tung Leung
Jasmin Lin
Minha Park
Emily (Hsiang-Yen) Su
Pinky (Nok Man) Tsang
Chung Wai (Yuki) Wong
Peter Yik
Grayscale Limited Web Design Hong Kong
Grayscale Limited Web Design Hong Kong is an interactive design and development agency. They have provided invaluable planning and design guidance on this project, and their clients include public institutions and private businesses alike. See their work at grayscale.com.hk.
---
Teaching development grant
This project received generous funding support from a University of Hong Kong Teaching Development Grant (TDG). The TDG scheme supports projects and activities that will have an impact on the strategic development and promotion of Teaching and Learning.