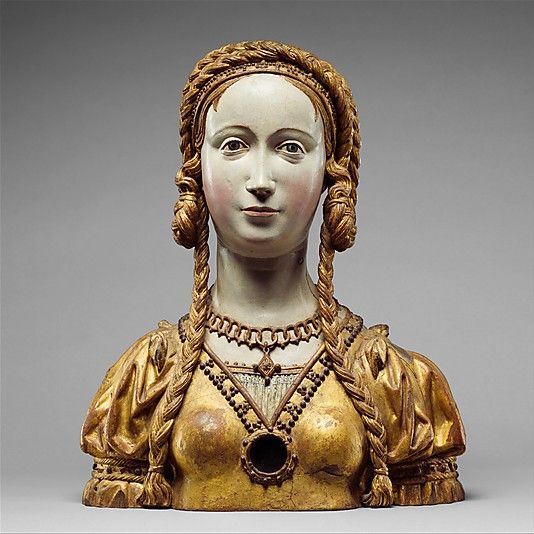 The Reliquary Busts of St. Ursula and Companions: Patterns and Variations
Introduction
Extending from Cologne, Germany, up to Sweden, reliquary busts of St. Ursula and her companions are one of the few female-centric religious objects that prevailed in the Middle Ages.
The story of St. Ursula goes back to about 400 AD, when Ursula and her group of devoted companions undertook a pan-European pilgrimage before her marriage. Their journey was never completed, though, because they encountered the pagan Huns at Cologne, who fatally attacked them. As a result of her martyrdom, Ursula and her companions became popular icons for intercession by those undertaking pilgrimage. Various renditions of reliquary busts of St. Ursula and her companions have been discovered over the years, several of which, as well as the reactions evoked by these reliquaries on pilgrims, are discussed in this article.
---
Common Physical Traits
Relics in head-shaped reliquaries need not contain an entire human skull; the reliquary can represent a saint's head even if it contains fragments of the skull or another saint's relics.1 While head-shaped reliquaries for storing relics of the head were referred to as "huffud" (head) rather than as reliquaries in medieval documents, St. Ursula and her companions' reliquaries usually have an additional cavity on the bust for storing relics of the breastbone.2 The busts are, on average, 43.5 cm tall, large enough to be viewed when carried in processions. While precious metals were valued as the only earthly materials worthy to encase heavenly relics in treatises, wooden reliquaries of St. Ursula and her companions were much more commonly found and were equally revered for their excellent craftsmanship. Cavities containing relics are either openable, opaque, or transparent. A summary of some of the patterns of the cavity openings is shown in figure 3, with the first pattern to the left seeming to recur most often in those made in Cologne.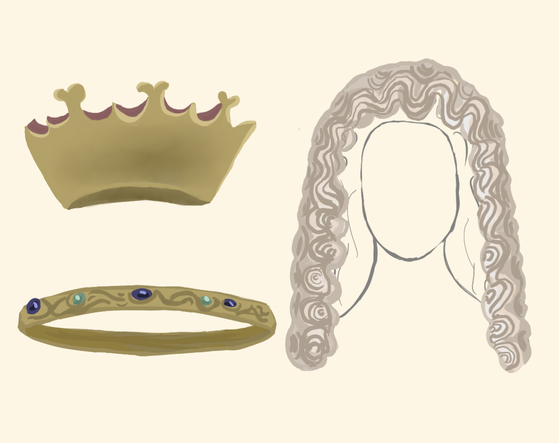 A common trait across most reliquary busts is that the top of the head forms a lid covering the relic compartment, and a crown, if present, obscures the compartment even further. Reliquary busts that are crowned represent St. Ursula, and those that are not represent her companions.3 A crowned St. Ursula, holding an arrow, is portrayed in paintings in several churches in Uppland, near Sigtuna, Sweden, while her companions are not crowned. However, because medieval female saints wear crowns in approximately half of their depictions, identifying St. Ursula with certainty can be difficult. We can, however, identify that most of the Cologne busts, which are not crowned, represent her companions.
Whether they are made of oak or metal, crowned or uncrowned, a common pattern across all busts is the highly accentuated face.4 The eyes are thin and half-open, indicating contemplation, and are usually encased in the narrow horizontal folds of the eyelids. Painted reliquaries have red-tinted lips, the color of which is also lightly brushed across the cheeks and the tip of the nose, giving a more youthful look to the saints and virgins, a somber reminder of their untimely passing. The face is framed with waves of long, elaborately styled hair. Reliquary busts from Cologne generally boast locks of intricately braided hair, while others bear more modest styles (fig. 4). Finally, the entirety of these busts are completely rendered and finished in both the front and back, as these were carried in processions and were intended to be seen from all sides. Smaller-scale reliquaries created as altarpieces may be inconsistently sculpted from the back, as is the Nordic reliquary in figure 2. With an array of variations across these reliquary busts, the overarching feature seems to be a mild and friendly expression depicted on the face, offering feminine comfort and inviting pilgrims to intercession during their tough journeys.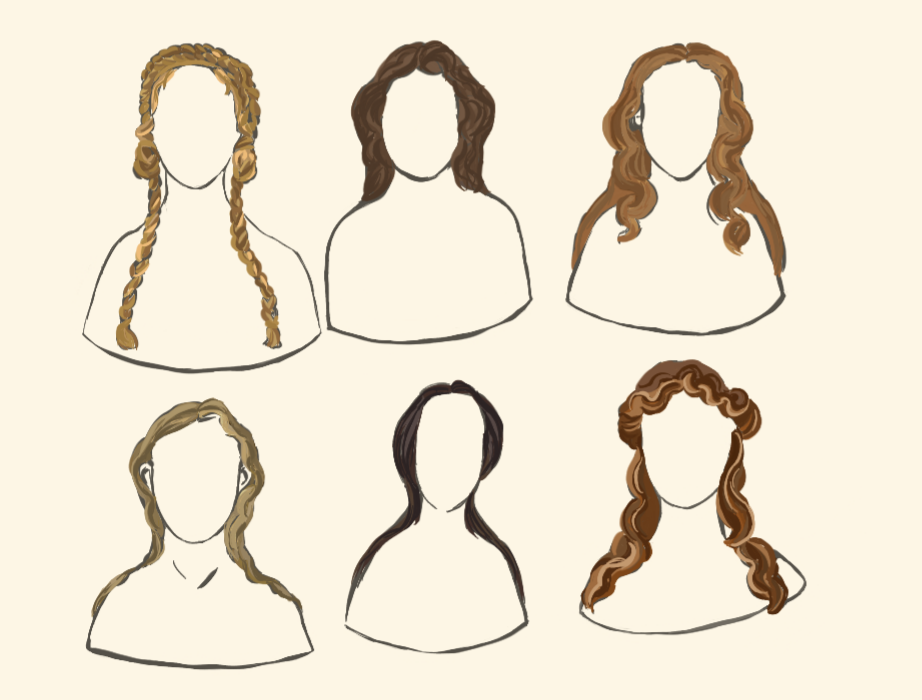 ---
Pilgrims' Interactions with Reliquary Busts
Understandably, the reliquary busts scattered across Europe with devastating backstories must have had emotional effects on pilgrims and churchgoers alike. In a 1286 letter, the Dominican Petrus de Dacia writes to his friends in Cologne to keep "the heads of the virgins for him."5 The following year, he traveled to Cologne to purchase ten of the 11,000 virgin skulls. When noting the circumstances of his acquisition of these relics, Petrus describes the miraculous healing of his heart disease during his visit to Cologne. He sent nine of the heads home separately and traveled back to Sweden with only one suspended around his neck, which he claimed made him strongly feel the presence of the holy saint, evoking a "lovely emotion" in him. The reliquary bust must have been small in order for him to string it around his neck, or else he might have carried the relics in silk pouches alone, but the incident shows the power that these objects had over those in contact with them. Another account from seventeenth-century Germany describes the performance of thirteen such heads in Esrum. As a response to the hymn sung by monks after the Christmas Eve Matins, the heads of the virgins on the high altar began to sing.6
A consequence of the virgins' outstanding number is that their heads were often sold and kept in pairs in Nordic countries. One such pair was mentioned in the 1346 will of Swedish king Magnus Eriksson and queen Blanche, which was to be donated to the Vadstena Monastery.7 One eighteenth-century anecdote about Roskilde Cathedral claims that in the Middle Ages, two wooden heads nailed to the main altar would nod when people were absolved from their sins.8 The anecdote claims that someone would move the heads accordingly with an attached metal wire.
Because they were the some of the first to be uprooted from churches during the sixteenth-century Reformation, however, many wooden reliquaries of St. Ursula have been destroyed, as they were of no interest to the confiscators.9 Items were moved around in general; changes in royalty or ecclesiastical alliances would call for rearrangements and replacements of church treasures. The reliquaries mentioned in the 1346 will, for instance, were donated in part by the king and queen's desire to have their funeral in the monastery, but the plan was never executed, as the king died in exile.10 French silver busts of St. Ursula remain preserved; in fact, the intense stares from their polychromed eyes explain why one was mistaken for a pagan idol in an early fourteenth-century report of the trial against the templars.11
The popularity of St. Ursula in medieval veneration arises from the sheer amount of virgins who lost their lives in pilgrimage, which gave hope to pilgrims suffering through their own journeys toward sanctity. Reliquary arms, such as those of St. Valentine and St. Fiacre, evoke powerful effects in their own ways, but reliquary busts of St. Ursula and companions serve to empathize with those suffering and offer companionship in times of distress.
---
Bibliography
Andersson, Aron. Diarium Vadstenense, 6.10.1515., Sveriges kyrkor: konsthistoriskt inventarium. Östergötland: Vadstena klosterkyrka, 2: inredning. Stockholm: Almqvist & Wiksell, 1983.
Asztalos, Monika. "Capita virginum, de quibus michi scripsistis, michi conseruate." Petrus de Dacia om Christina från Stommeln—En kärleks historia. Uppsala: Carmina, 1991.
Camille, Michael. The Gothic Idol: Ideology and Image-Making in Medieval Art. New York: Cambridge University Press, 1991.
Domkirke, Roskilde. Danmarks kirker (DK). Köbenhavn, 1951.
Fritz, Birgitta. "Vadstena klosterkyrka och kung Magnus' testamente 1346." In Birgitta av Vadstena: Pilgrim och profeta 1303–1373. Per Beskow, Annette Landen, eds. Stockholm: Natur och kultur, 2003.
Gad, Tue. "St. Ursula." Kulturhistoriskt leksikon for nordisk middelalder: fra vikingetid til reformationstid. Köbenhavn: Rosenkilde og Bagger, 1980–1982.
Hahn, Cynthia. Strange Beauty: Issues in the Making and Meaning of Reliquaries. 400–circa 1204. Philadelphia: Pennsylvania State University Press, 2012.
Lahti, Sofia. "The Sigtuna Reliquary Bust—a Local Heroine and a Virgin of Cologne?." Konsthistorisk tidskrift/Journal of Art History 86, no. 3, 2017, 188–203.
---
Image Credits
Fig. 1 Reliquary bust of St. Ursula made in Brussels, Belgium, ca. 1520–30. Source: The Metropolitan Museum of Art, https://www.metmuseum.org/art/collection/search/193612. Public Domain.
Fig. 2 Reliquary bust found in Sigtuna, Sweden. Source: Sofia Lahti, "The Sigtuna Reliquary Bust – a Local Heroine and a Virgin of Cologne?," Konsthistorisk tidskrift/Journal of Art History 86, no. 3 (2017): 188-203, https://doi-org.eproxy.lib.hku.hk/10.1080/00233609.2017.1325931.
Fig. 3. Variations in chest openings in St. Ursula and her companions' reliquaries. Illustration by Iqra Abbasi.
Fig. 4. Variations in crowns and head gear across St. Ursula's reliquaries. Illustration by Iqra Abbasi.
Fig 5 Variations in hair styles across reliquaries. Illustration by Iqra Abbasi.
---
The Author
Iqra Abbasi studies Computing and Data Analytics and Fine Arts at the University of Hong Kong. She enjoys illustrating in her spare time.